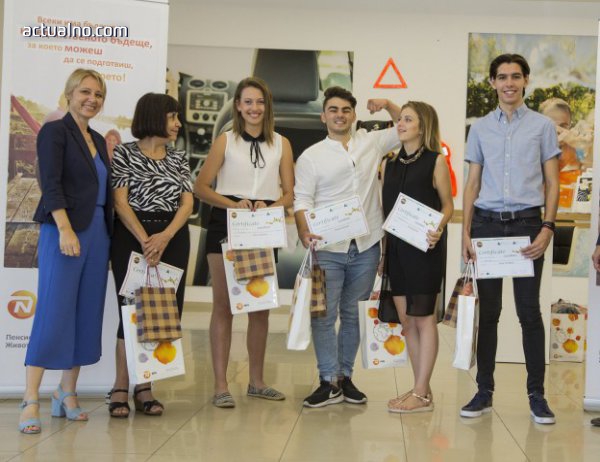 It is so encouraging that such innovative and creative initiatives are born in a school environment, said Mr. Avinoam Katrieli, President of Fondation "I Love Bulgaria", in regard to the ideas for social innovations of some pupils in the field of rapid response and saving lives. Three students teams received the big prizes at the seventh edition of the International competition "Social Innovations", organized by Junior Achievement Bulgaria. The third place in the competition is of the students from the 4SE team of 23 Frederick Joliot Curie School in Sofia, with participants Dennis Pavlov, Vergina Ivanova, Vesselina Mitkova, Dimitar Andonov with leader Albena Kostova. Their social innovation presents the building of a closed and sustainable ecosystem for park areas, called SMART. The main goal of the idea is to build a closed cycle in the maintenance of park areas by applying the principles of the circular economy and achieving social, environmental and economic effects.
The team of Creative Multiverse from the English school "Acad. Lyudmil Stoyanov" from Blagoevgrad was ranked second, with participants Asen Georgiev, Georgi Mutafchiev with leader Milka Komitova. The team created a social networking application that connects people who are overweight. The idea of ​​the app is people with the same problem to be able to organize themselves and carry out training and other activities related to keeping a healthy lifestyle without worrying about their appearance. The service can be complemented by additional organization of special events.
The first place was granted to the team Lucratives from School "Elias Canetti", Rousse, with participants Emma Hasanova, Petar Hristakiev, Celin Ismetova, Sergei Awakyan and leader Rumyana Tsaneva. Their innovation is a sort of solution in the field of rapid response and saving lives. Students develop the Alleviation program, consisting of three main components: VitBrace - a bracelet tracking four vital human indicators, a LitDrone - a droning emergency kit, and the CareApp application that serves the entire system. "Our social innovation is not only a rapid response system, including prototypes and acting drones, special bracelets to support team work, but a common life-saving system. We are grateful for the support of our mentor Kristina Lambeva from NN, who worked with us on the idea, "said the Lucratives team.